March 16, 2017
no comments
Today only Amazon Smile is increasing their donation rate to 5% of eligible Amazon Smile purchase. An increase of 10 times their usual donation rate.
If there's anything you've considered buying, please purchase it today! Also bookmark Amazon Smile so all future purchases also benefit HOBY NYE!
Not buying anything?? Spread the word to EVERYONE!
Not sure how to use Amazon Smile? Instructions for how to add and select this charity: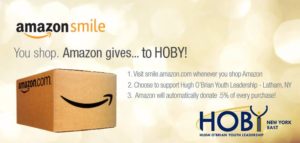 Hugh O'Brian Youth Leadership of New York
Location: Latham, NY 
|
Year Founded: 1958
Mission: The Organization's Exempt Purpose Is To Provide Children In The Tenth Grade An All Expense Paid Three-Day Weekend Seminar Where Leadership And Motivation Are The Focus.
Programs: Hoby
Thank you! HOBY Hugs!